In Hong Kong, a huge quantity of construction and demolition (C&D) wastes and waste glass is produced every day representing a large fraction of the total solid waste stream. The disposal of these wastes has become a severe social and environmental problem in the territory. Government sources have indicated that there are acute shortages of both public filling area (reclamation sites) and landfill space in Hong Kong. Hong Kong's three mega landfills are expected to be full within 5-6 years. The possibility of reducing and recycling these wastes is thus of prime importance. Hong Kong also faces a serious air pollution problem. In particular, the densely populated urban area in the city which houses many tall buildings hinder and prevent the circulation of air at the street level.
The Hong Kong Polytechnic University has been conducting research on methods to recycle waste and tackle the air pollution problem. The Eco-block effectively uses construction and demolition waste and recycled waste glass as major constituents in the production of concrete blocks. The Eco-block has undergone three generations of development and the latest generation has successfully combined the use of recycled materials and a small quantity of photo-catalyst for paving block production. The block is able to remove low concentrations of air pollutants such as nitrogen oxides via a photo-catalytical reaction. This technology utilizes sun-light as the energy source, and requires no additional driving energy, minimal maintenance actions and can work throughout the year. It not only reduces the disposal of wastes, but also conserves the use of natural resources in the production of eco-friendly construction materials.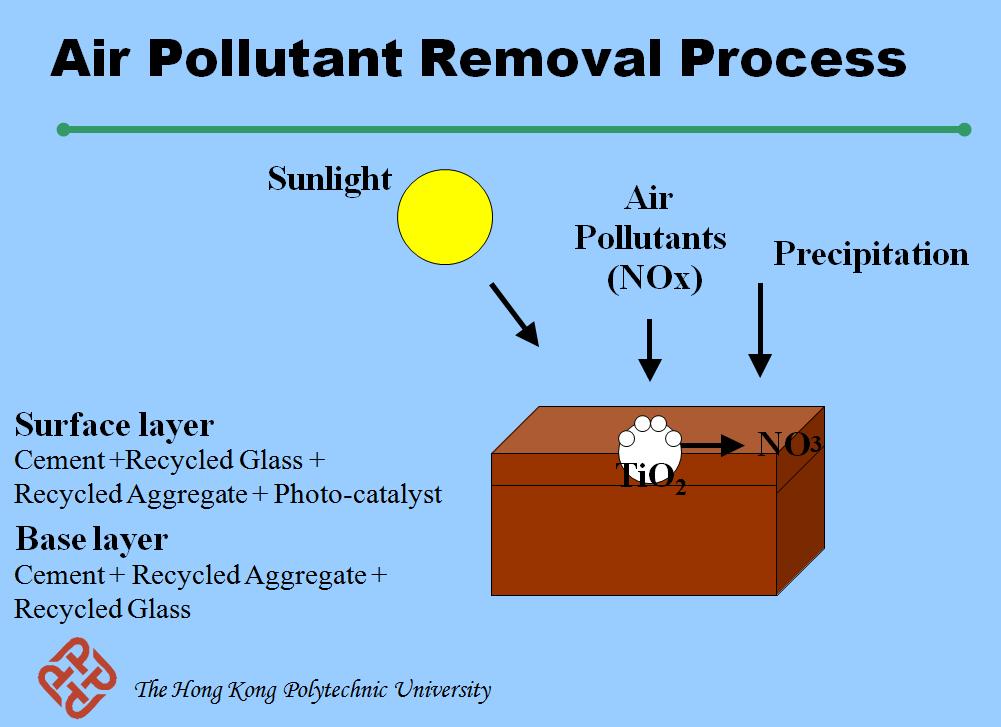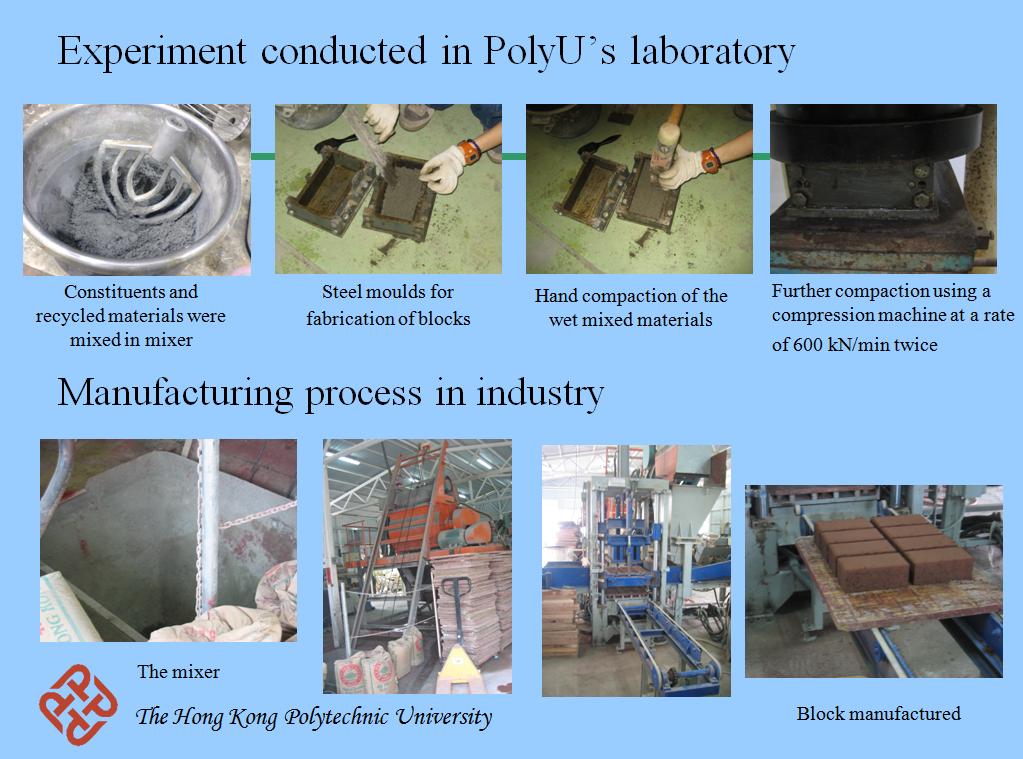 In practice, the technology uses a mechanized molding method for producing the concrete paving blocks. Using such a method, the mixed materials are molded under a combined vibrating and compacting action so that the requirement for maintaining a workable mix is not so important as that in normal concretes. Only a minimal amount of water is needed to make the mixture fluid enough to be fed into the molding machine.
A series of stringent tests have been conducted on the blocks to test their compressive strength, transverse strength, drying shrinkage, skid resistance and other durability properties. The test results showed that using this technique, the concrete paving blocks made are just as good as those made with virgin materials in the market.
Experiment results show that at least 20% of nitrogen oxides can be effectively removed by the blocks under laboratory conditions.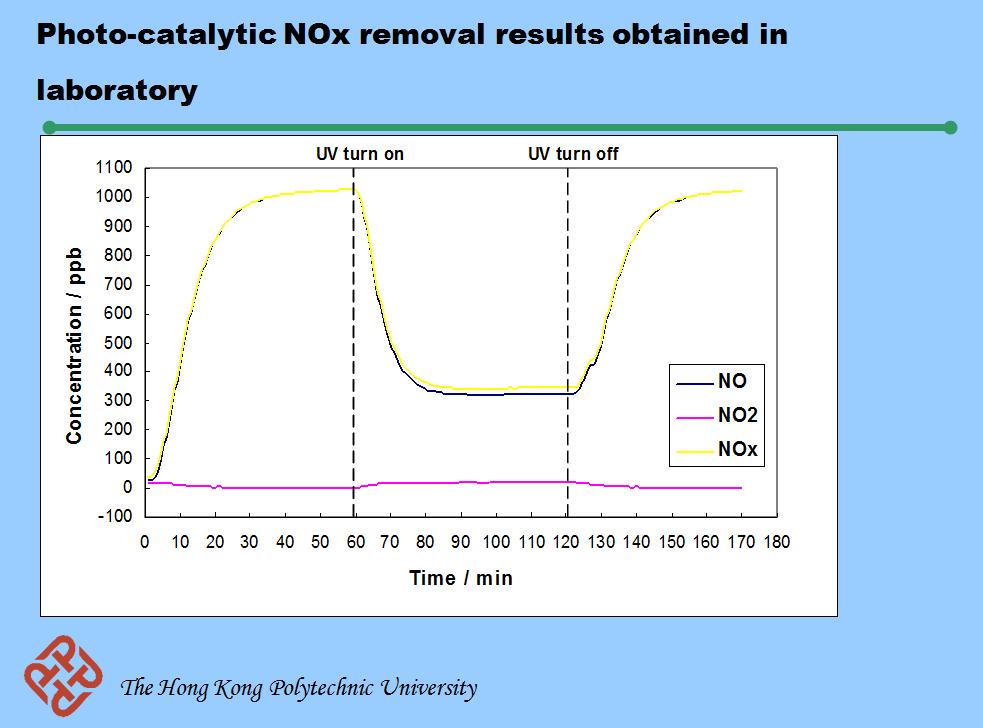 Indeed, the Eco-blocks have already been put into uses at a number of different sites in Hong Kong including recreation grounds, the eco-park, university and school campuses, public pavements and a number of private and public housing estates.
This developed recycling technology has been commercially transferred to local manufacturers. But the lack of knowledge about the availability and performance of the recycled material in the local construction industry is still hindering the wider use of the material in Hong Kong.
香港每天都產生大量的建築廢物和廢玻璃。處理建築廢物和廢玻璃已經變為嚴重的社會和環境問題,政府資料顯示用於堆放固體廢物的公共堆填區和填土開墾區資源嚴重短缺,三個主要的公共堆填區將在5-6年內用盡。回收和再利用這些廢物已經是環保工作的第一要務。同樣地香港也面臨着嚴重的空氣污染問題,特別是人口密集和高樓大廈集中的中心城市街道空氣污染尤為嚴重。
香港理工大學致力於研究和開發回收各種固體廢物和解決空氣污染問題的方法。環保磚是一種可有效的利用建築廢物和廢玻璃的混凝土砖。香港理工大學已經發明了三代環保磚,特別是第三代環保磚成功地將利用固體廢物和少量光催化劑結合在一起製造出了可淨化空氣的鋪路磚。該鋪路磚可以減少空氣中低濃度的有毒氣體如氮氧化物。該技術利用太陽光作為反應能源可在不需要其他能量的條件下長年進行光催化反應減低空氣中的一氧化氮濃度。環保磚既減少了固體廢又節約了天然材料同時可以減少空氣污染,是一舉多得的環保建築材料。
在生產實踐中,將按一定配合比設計的原材料加入少量水後攪拌然後倒入鋼模中,在具有振動和擠壓二合一的壓力機中擠壓幾秒鐘即可製造出符合標準要求的混凝土磚。該方法與普通混凝土的製造方法相比,不需要嚴格控制其流動性,尤其對使用回收再造的固體建築廢物具有優越性。
經過對環保磚的抗壓強度,抗彎強度,幹縮率,防滑性能及耐久性等一系列的嚴格測試結果證明該發明技術生產的環保磚與本地市場上出售的普通天然材料生產的鋪路磚具有同等的技術性能。實驗證明該環保磚在實驗室的條件下至少可以減低20%的一氧化氮氣體。
環保磚已經在香港多个公眾場所進行了試用。如在休閒場地,環保園,大學及中小學,公路旁,私人和公共屋村等場所的試用都取得了滿意的效果。
環保磚的發明技術已經在香港投入了商業化生產,但是由於人們對環保再造材料的性能缺乏充分的認識,一直阻礙著環保造建築材料在香港建築工業中的廣泛應用。